21st Night gets students to where they want to be.
21st Night is more than just another flashcard app. It's a comprehensive exam solution: anything can go into 21st Night (pictures, videos, equations); it'll track students' mastery on the questions that are put in; and it'll tell students when to review questions next. And, with 21st Night, studying gets multiplayer.
The result? Spectacular score increases for students, and ecstatic clients for tutors.
Try 21st Night free for 14 days.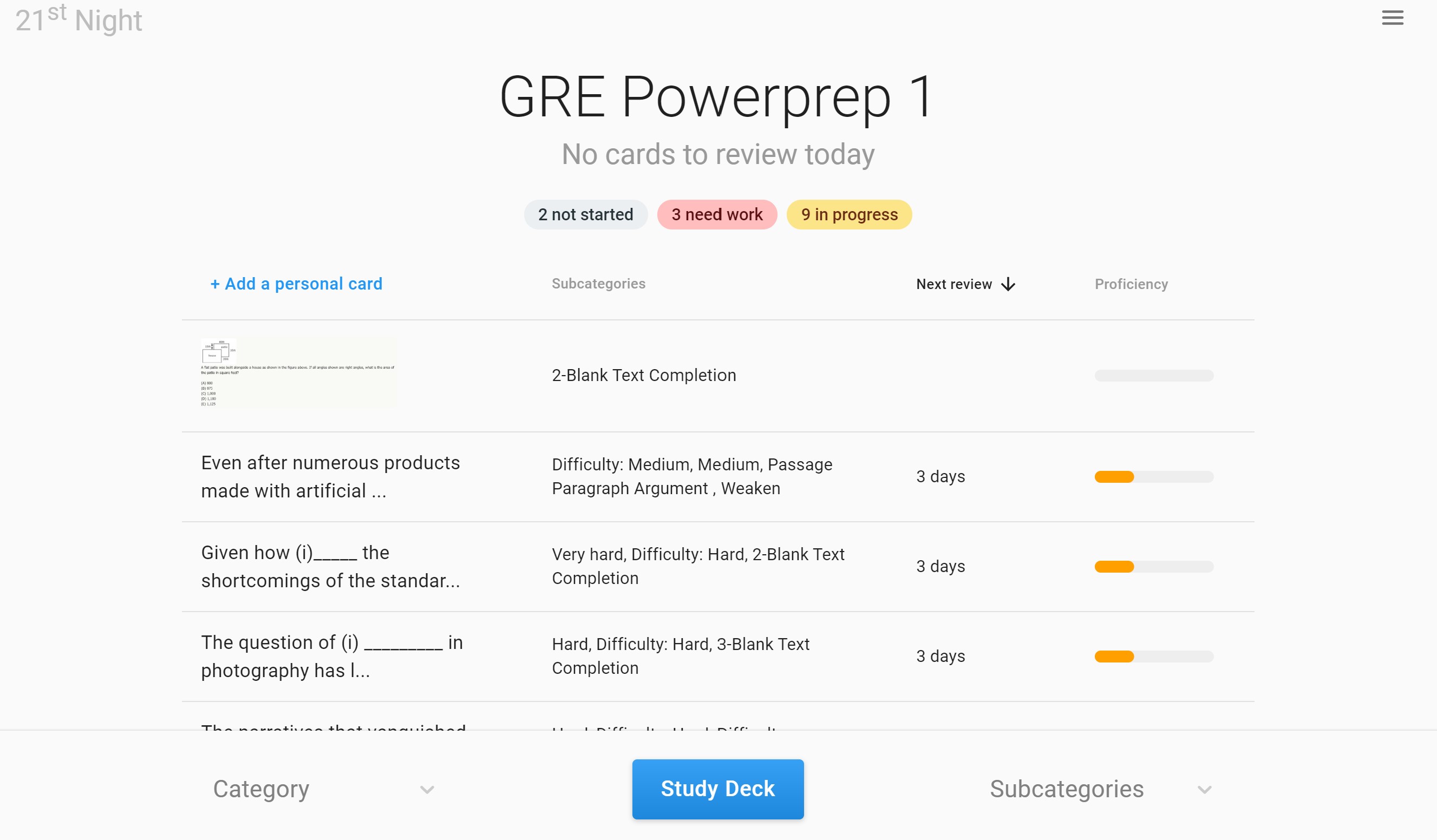 "21st Night is a singularly effective studying app. When I use it, my students' score increases are nothing short of amazing.

Trevor Klee, 99th percentile GMAT, GRE, LSAT tutor
If you're a self-studier, 21st Night will show you what and when you need to study for your exam. Just put in all the questions you have trouble with: copy-paste from a web page, screenshot a pdf, or take a picture with your phone. Once you're done, click study deck, and your questions will be shown to you at the optimal time to make sure you're mastering the material.
If you're an educator, 21st Night will show you what topics your students are struggling with, and help you decide what to focus on next. Create a deck, and assign it to your students, as many as you have. 21st Night will show you their proficiency on each of the questions and topics you assign, both individually and as a group. You'll know exactly what you need to teach for next time.
"Your method of preparing for the GRE has been by far the best method I have encountered to succeed in this exam. If I were to take any other standardized examinations in the future, 21st Night would be the first tool I reached out for."

Anirudh Sriram, University of Chicago Graduate Program in Computer Science
"In the past couple months, you've helped me go from an 86th percentile score to a 98th percentile score on my GMAT. Thanks!"

Emily Duarte, Harvard University student
Think these testimonials are impressive? We've got a lot more.
Try it out for free for 14 days!
You should also sign up for the newsletter! It's chock full of tips, strategies, and concepts to help you master your exams: