21st Night: your new favorite flashcard app.
If you're a student, 21st Night organizes your studying. It notifies you to review problems and concepts before you forget them.
If you're a tutor, 21st Night analyzes what your students are struggling with and makes sure you help where you're needed.
21st Night, in short, serves as a map, showing you what to work on next and what pitfalls to avoid.
Try it free for 14 days.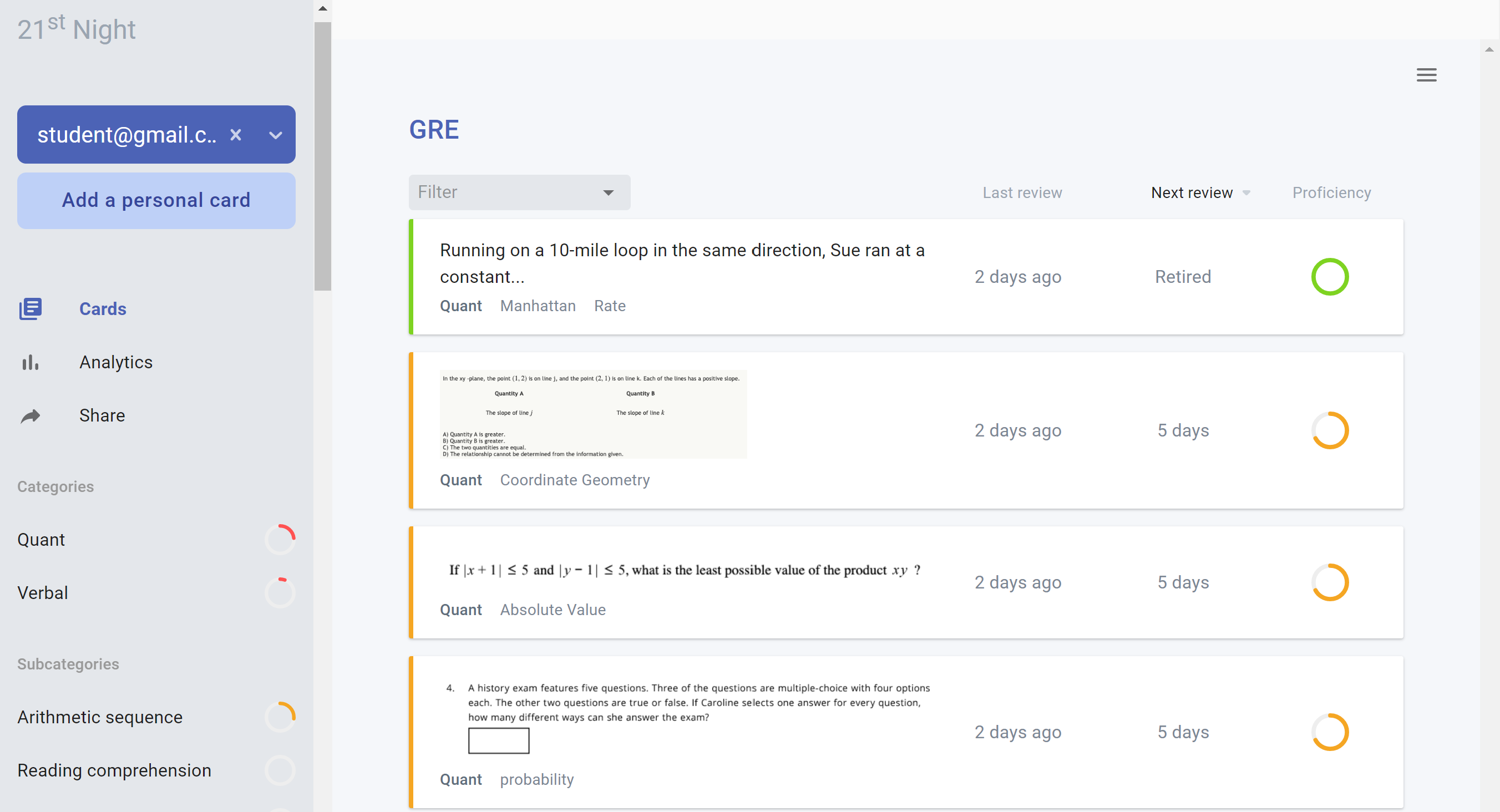 How it started
I run Trevor Klee, Tutor, a test-prep business that specializes in graduate exams.
Graduate exams are hard. Each requires a minimum of 100 hours of studying, and the MCAT takes more than 300 hours. That's almost 4 months of studying for 20 hours/week.
My clients rely on my team to be their guides through these exams. They need someone to find what they're missing, teach them the necessary material, and make sure they're ready for test day.
21st Night has become a crucial part of how we teach. We ensure that our clients remember what we teach with the spaced repetition algorithm. The analytics show what our clients are struggling with, and we use the sharing function to send them additional material.
Real results
"Your method of preparing for the GRE has been by far the best method I have encountered to succeed in this exam. If I were to take any other standardized examinations in the future, 21st Night would be the first tool I reached out for."

Anirudh Sriram, University of Chicago Graduate Program in Computer Science
I increased from 590 to 680 in just 7 weeks, thanks to 21st Night and you!

Ink Eze, AsoEbiBella
Think these testimonials are impressive? We've got a lot more.
Try it for free for 14 days!